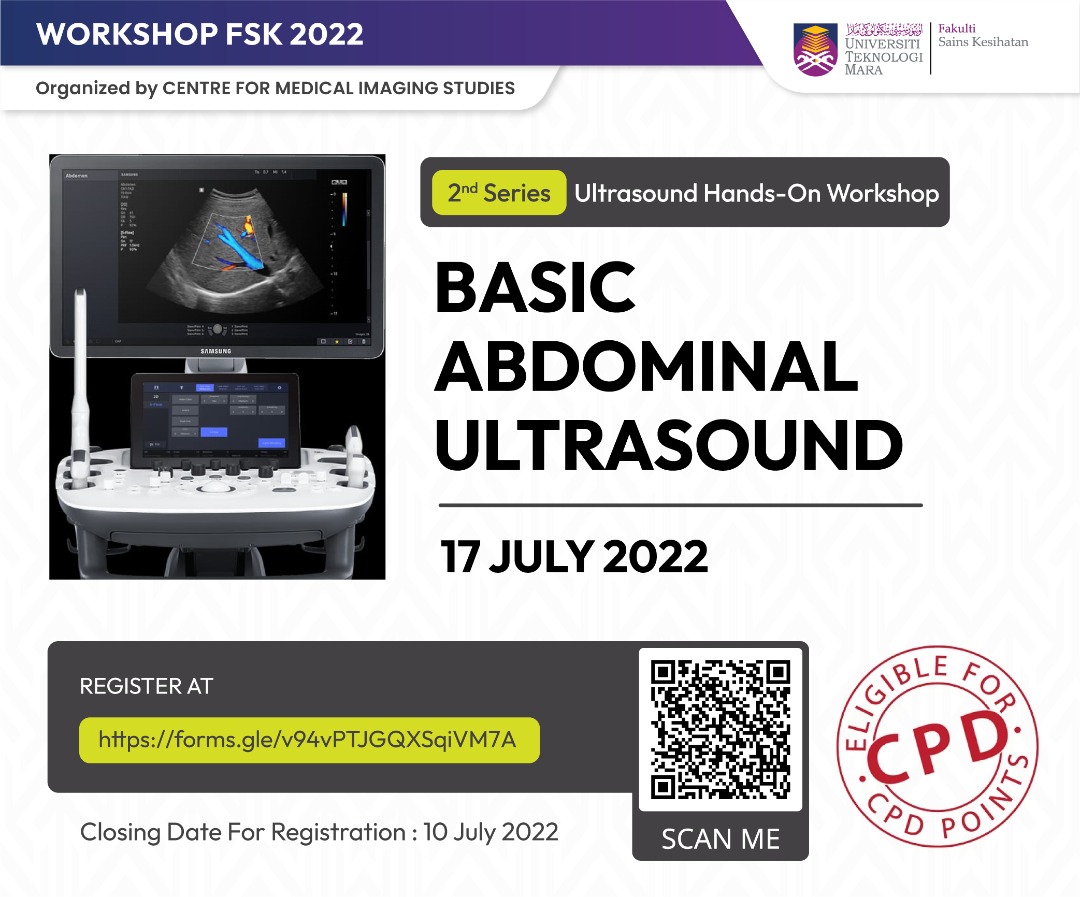 Hands-on Workshop: Basic Abdominal Ultrasound
"Series 2: Basic Abdominal Ultrasound Workshop"


Are you Medical Officer, General Practitioner or radiographer who are interested to learn and enhance your skills in abdominal ultrasound?
Are you looking for comprehensive theory and practice sessions to learn ultrasound?
Are you looking for an intensive training with low person to machine ratio to learn ultrasound?
If yes, our second series Basic Abdominal Ultrasound Workshop is the best avenue for you.
Please find the details below:
Date: 17 July 2022 Time : 08.00 am - 5.00 pmVenue : Ultrasound laboratory, Ground floor, FSK 2,3,4, Faculty of Health Sciences, UiTM Puncak Alam Campus, Bandar Puncak Alam, SelangorRegistration fee : RM350
Do not miss out this excellent 1-day event to engage with our speakers and instructors and be informed during informative lectures and hands on training.
The workshop will be limited to 12 attendees. Register early!
Registration can be found here:
CLICK HERE
For any inquiries, please reach us :
03-3258 4558
This email address is being protected from spambots. You need JavaScript enabled to view it.
SPEAKER
Mrs Lyana Shahirah Mohamad Yamin, Lecturer Faculty of Health Sciences
Dr. Leong Sook Sam, Senior Lecturer Faculty of Health Sciences
Dr. Mazuin Mohamad Razalli, Radiologist Hospital UiTM
Organized by Centre for Medical Imaging Studies, Faculty of Health Sciences, UiTM
PARTICIPANT BENEFIT
» Training hours for UiTM Staff
» CPD Point for non UiTM Staff
» Certificate
» Notes

LOCATION
Ultrasonography Lab